These pages are devoted to the family and descendants of Johann Peter Klinger ("Peter") and Catharina Steinbruch, who lived near Klinger's Church (now Zion Lutheran Church) in Lykens Township, Dauphin County, PA.
Peter was born November 3, 1773, in Reading, Berks County, PA, the youngest son of Johann Philip ("Philip") and Eva Elizabeth Beilstein Klinger. Peter died August 10, 1858, and was buried at Klinger's Church Cemetery. Catharina Steinbruch (or Steinbrecher), born May 3, 1774, Dauphin County, PA, was the daughter of Adam Steinbrecher and Anna Margaretha Hoffman. She died Sepember 21, 1845, and was buried at Klinger's Church, Dauphin County, PA.
Peter's father Philip, along with Philip's brothers Alexander and Johann Peter, and cousin Johannes, emigrated to America from Germany between 1749 and 1751. The history of the Klinger Family in Germany and the emigration of Philip, his two brothers and cousin, is covered in more detail in "The Descendants of Johann Peter Klinger and Catharina Steinbruch," (4th ed. 2017) published by this author and available from Sunbury Press, sunburypressstore.com. That book lists approximately 10,000 descendants in 10 generations.
This site focuses principally on the deceased descendants of Peter and Catharina. Many of these descendants, especially in the first several generations, lived in Dauphin, Northumberland, or Schuylkill County, Pennsylvania. It is intended that non-public, personal details about persons who are or may be living be excluded from these listings.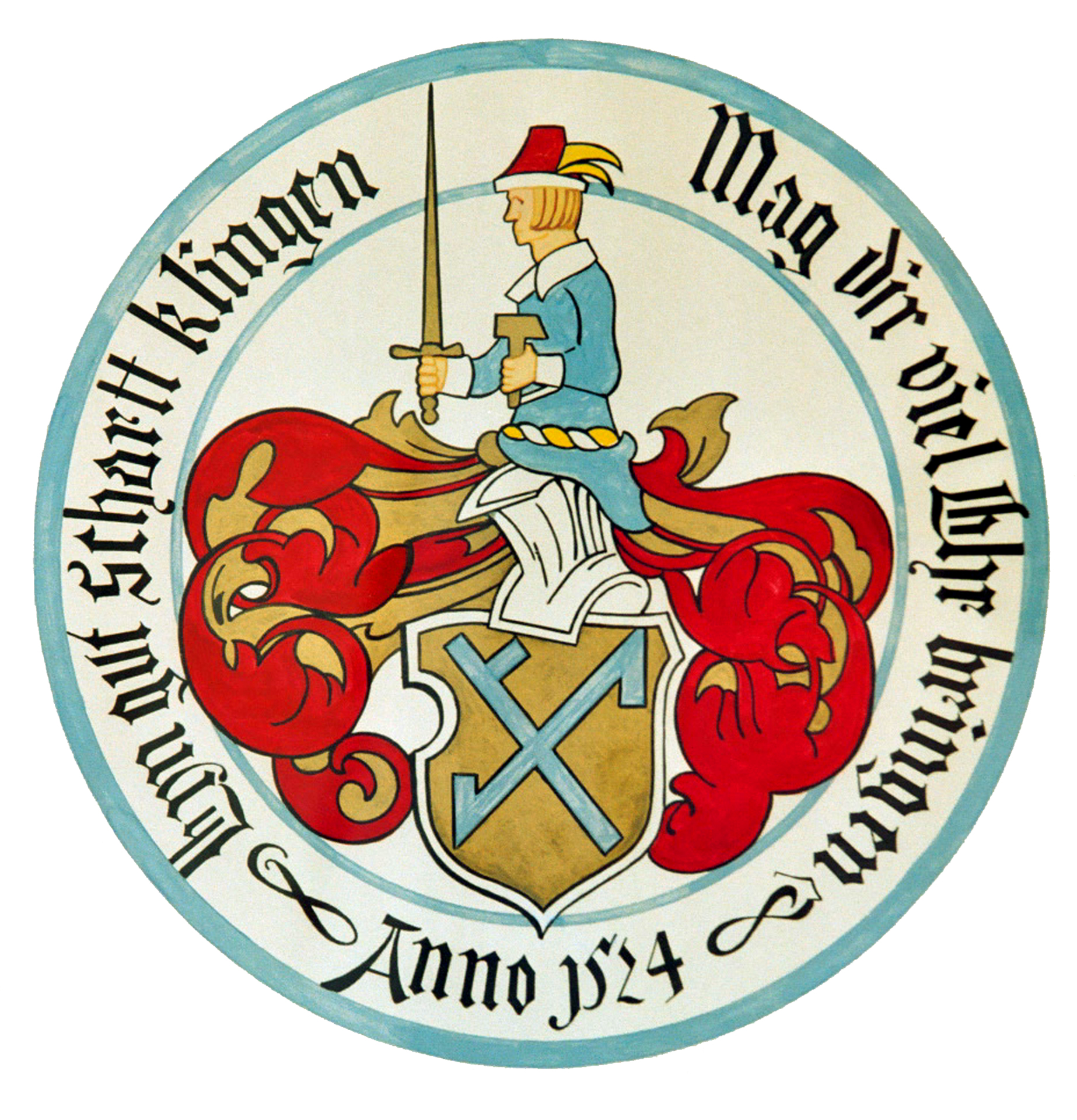 Klinger Coat of Arms, as painted by George Malick (1924-1993), who lived in Hegins, PA. The painting was commissioned by Carlos G. Klinger in 1976, and the original is retained by his descendants. Reproduction of this image without permission is prohibited,
---
While the focus of these pages are on the Klinger family, the listings here show that there has been a large degree of intermarriage with the descendants of Johannes Schwalm, a Hessian soldier who came to America as part of one of the forces that the British hired from German nobles to fight on behalf of the British. Like many of these "Hessians," Johannes remained in America after the Revolutionary War and eventually settled near Klingerstown in what is now Schuylkill County, PA. A book published by the Johannes Schwalm Historical Association (JSHA), called "Johannes Schwalm: The Hessian" (1976) well covers the story of Johannes and many of his descendants. JSHA (www.jsha.org) remains active today.
One of Johannes Schwalm's daughters, Elizabeth, married Alexander Klinger, grandson of Philip Klinger. Also, a number of descendants of one grandson of Johannes Schwalm, Frederick Stein Schwalm, intermarried with various Klinger families.
In addition, much of the interconnection between the Klinger and Schwalm families resulted because three grandchildren of Peter and Catharina Klinger (children of their son Peter and Catherine Wiest) married grandchildren of Johannes Schwalm and Ottilia Bobb (children of their son Frederick and Catharina Stein). As a result, a significant number of the descendants of Peter Klinger and Catharina Steinburch listed in this site are also descendants of Johannes Schwalm and his wife Ottilia Bobb.
The three grandchildren of Johannes Schwalm and Ottilia Bobb who married grandchildren of Peter Klinger and Catharina Steinbruch were:
The listings on these pages, which are based on sources of varying quality, will be updated from time to time as additional information comes to light. Any mistakes in interpreting or using these sources, are mine. Anyone with additional information or corrections should contact the compiler listed below.
In the listings, a small camera icon indicates a link to a photograph or other image.
Click on one of the links listed above to open the database. To go directly to Peter's listing, click on the following link: